Home » Solos & Checkrides
Andrew Wegener
Dr. Mike Wegener
, who is also a Private Pilot.  Congratulations Andrew!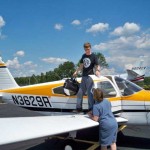 And here's our write-up after Andrew's first solo flight ...
Andrew Wegener is met by his Mother after his first solo flight at the Henderson-Oxford Airport on June 7th, 2012. Andrew's Dad,
Dr. Mike Wegener
, and brother,
Adam
, have also taken lessons at the field. Below Andrew receives a congratulatory hug from his Grandmother.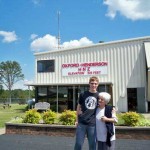 Andrew Wegener is a student at NCSU in his junior year earning a degree in Aero Space Engineering.  As if that wasn't enough to study, he decided to earn a Private Pilot's License. On 8-22-14,  Andrew passed his Private Pilot check ride with Designated Pilot Examiner Henry Joyner.  Andrew flew a Piper Cherokee, N8432C.  He was mentored through the training by his father,