Home » Solos & Checkrides
Dan Dunbar
Update! Dan passed his Single Engine (SE) and Multi-Engine (ME) Commercial Instrument check ride on Sunday 10/23/16. Photo is with DPE Henry Joyner @ ASJ. Dan now owns a Cherokee 180 ... his first XC as a PPL was to Greenbay, Wisconsin!
He passed his IFR checkride @ KTTA on 12/10/15 with examiner DPE Greg Hudson, two years and 250 hrs. of flt. time after his PPL.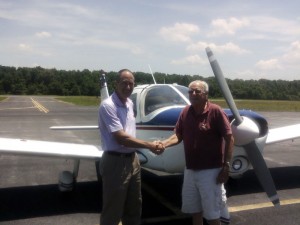 Dan passed his private pilot check ride on 6-24-14.  He flew to the Tri-County Airport in a PA-28, N8432C, for the practical examination with Designated Pilot Examiner Henry Joyner.  Dan is now in the process of purchasing his first airplane and plans to make frequent trips with his wife to visit relatives out of state.
On March 4th, 2014, Dan completed his first solo in a Piper Cherokee, N8432C.  He made three take off and landings on a beautiful evening just prior to sunset.  After his flight, he gladly sacrificed his favorite shirt when we cut off his shirt tail as a memento to the occasion.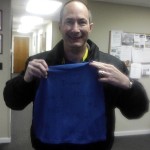 Some more news form Dan after his first solo cross country trip as a PPL in his Cherokee 180. "I made it up here to the Green Bay Wisconsin area to visit family and catch up with my wife who drove up here (19 hours to drive here) a couple of weeks earlier. I have attached some photos that I took from the air on my iPhone for the "archives". Flight time was 6.7 hours logged time. 3 hours 24 minutes to my first stop for fuel at KMNN in Ohio and then the last leg, including diversion around the weather listed below, to KOCQ was 3 hours and 18 minutes.  Other than a little bit of weather between the Lansing (LAN) VOR and White Cloud (HIC) VOR in upper Michigan I had no issues to speak of. The ATC people were very helpful when I found myself being vectored around the bad weather and then granted me my flying discretion when cloud layers started forming above and below me. I saw my window, a hole in the layer forming below me, and reduced power to about 2100 rpm and then did a spiral descent from 6500 feet to about 3000 feet to get below the clouds and then flew at that altitude the rest of the way to KOCQ which is about 45 minutes (drive time) north of Green Bay but only about 25 minutes from family."