Home » Solos & Checkrides
John Harper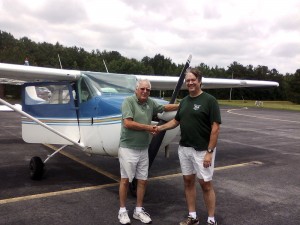 John Harper passed his Private Pilot check ride with DPE Henry Joyner on 7-20-13.  He flew a Cessna 172, N8432U.  John is already planning for flights to the beach and mountains with his wife and daughter and can't wait to show them the wonders of aviation.
On 3-30-13 John came to the airport expecting a dual lesson.  He flew too well and the day was too nice to let him leave without kicking him from the nest.  He soloed in N4844H, a Cessna 152.
Following tradition, we cut his shirt tail to commemorate the occasion.